One of the highlights of the Diversity Role Models Summer Soiree Pride Fundraising event is the auction - featuring a range of exclusive items and experiences up-for-grabs to the highest bidder.
Among these fantastic auction lots, we are particularly excited to present the 'Proud Beary' 10-year anniversary Pride Edition, a unique and captivating piece of art by renowned artist Thomas Wolski.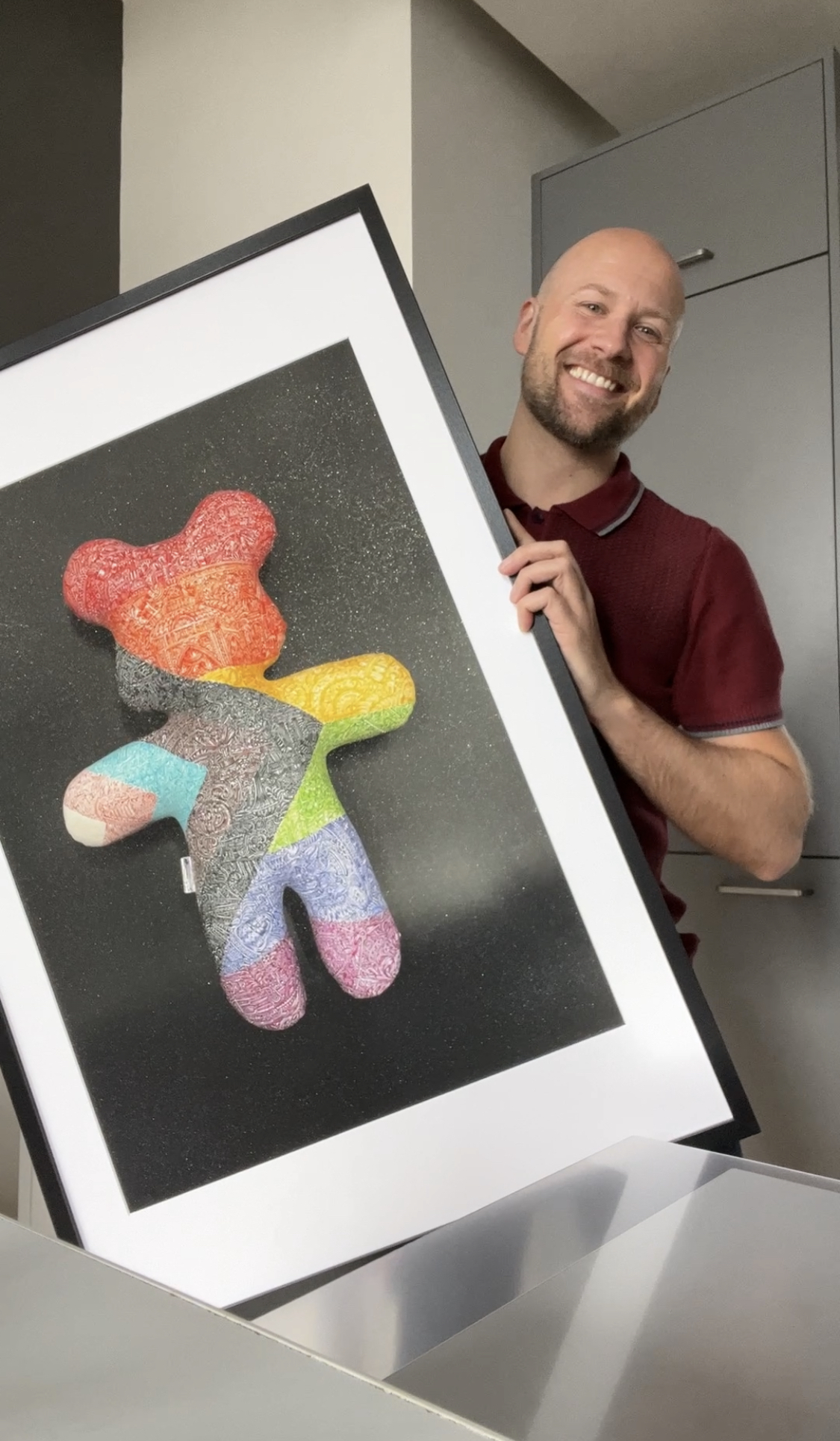 The Pride Edition of 'Proud Beary':
'Proud Beary' is a special pride edition of 'Bear my Soul,' a collection of teddy bears created to commemorate Thomas Wolski's 10-year anniversary as "The Artist."
"For Pride month this year I decided to use my reimagining of the iconic pride/progress flag, a very recognisable silhouette with a hypnotic filling and translate on to a 3D fabric form to be photographed for print."
This signed 1/1 prototype is a framed first run giclée print of this artwork finished in a holographic glitter spray.
Item Specifications:
£1,900 value
Acrylic frame 61 x 91cm
Giclée print size 50 x 70cm
Signed 1/1, first run sample
Holographic glitter spray finish
Avoid placing in direct sunlight and above sources of heat.
Wolski's Journey with Colour and Meaning:
Contrary to the perception that Wolski works exclusively in black and white, 'Proud Beary' beautifully demonstrates his deep appreciation for colour.
"This piece was an absolute joy yet very challenging on the eyes due to staring at certain colours intensely for very long periods of time. An extremely satisfying process to scale the piece and then cross off the colours one by one, a very happy picture indeed. This image means a lot to many different people across the world, mainly that you are here. Everyone wants to be seen and these colours scream look at me! Pride month isn't just about dancing around in colour, but about remembering and pushing forward with equality for all."
The Symbolism of 'Proud Beary':
'Proud Beary' serves as a metaphor for Wolski's artistic journey and encapsulates the essence of where it all began. As a child, he was captivated by the introductory pages of children's books—the intricate and enchanting landscapes where stories unfolded. Books like 'Rupert the Bear,' 'Brambly Hedge,' and 'The Wind in the Willows' held a special place in his heart. These imaginative illustrations sparked his creativity, often inspiring him to invent his own narratives.
The teddy bear, a universally recognizable symbol of comfort, vulnerability, and innocence, became the perfect canvas for Wolski's art.
"The Teddy Bear is a globally recognisable symbol that says, I care, I'm vulnerable, give me a cuddle, I'm comforted, warm and innocent, something nostalgic and whimsical. In many cases people treasure and hold on to these for life so I thought it the perfect shape to use. I'm a huge kid and a lot of my work relates back to subtle childhood memories as well as the pieces I pick up along my journey."
Join the Summer Soiree and Support Diversity Role Models:
We invite you to join us at the Diversity Role Models Summer Soiree and be a part of this extraordinary event. By attending, you'll have the opportunity to bid on the 'Proud Beary' auction prize, along with other exclusive items. Additionally, we're excited to offer 'lucky dip' items, adding an element of surprise to the evening. Find out more about the other items available in the auction and the 'lucky dip' here.
For those who cannot attend, we encourage you to contribute to the '50 for 50' Just Giving fundraiser, supporting Diversity Role Models' vital work in creating inclusive and accepting environments in schools.
Buy your tickets to the Diversity Role Models Pride Fundraiser today:
The Diversity Role Models Summer Soiree promises to be an evening of celebration, empowerment, and support for LGBTQ+ youth. The 'Proud Beary' auction prize by Thomas Wolski encapsulates the spirit of Pride and the importance of embracing diversity. By attending the event and bidding in the auction, playing the 'lucky dip' or donating to the '50 for 50' fundraiser, you can play a crucial role in funding DRM LGBTQ+ Anti-Bullying Workshops, creating a world where every young person is respected and supported for who they are.



👉PURCHASE YOUR TICKETS TO THE DIVERSITY ROLE MODELS SUMMER SOIREE PRIDE FUNDRAISER HERE👈