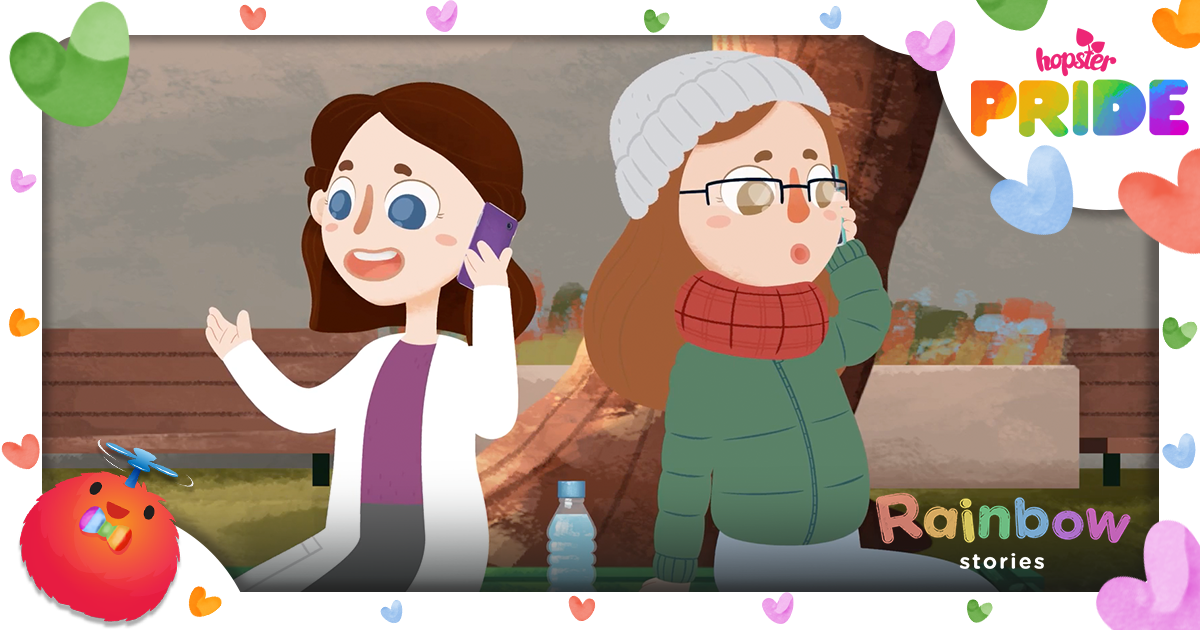 London, 14th June 2019 - A new partnership between Diversity Role Models and Hopster, the BAFTA-nominated preschool entertainment learning app and streaming video platform, will see the release of Rainbow Stories, three animated shorts that share the personal stories of LGBT+ people and their identities.

Released during Pride month, the shorts will help children aged 2 to 6 learn about the different types of families, challenge stereotypes and encourage acceptance.
Each of the three shorts are based on real life Diversity Role Models and their personal stories, which include the stories of James' adoption by Mark and Peter, Lynsey meeting the love of her life Holly, and Stuart's journey of gender identity. Rainbow Stories will be part of a curated collection of LGBT themed content for preschoolers that includes uplifting songs, positive short animated films and exciting ebooks based on classic fairy tales.
Adam McCann, CEO of Diversity Role Models, said: "Our role models are at the heart of our work. To see their stories of embracing difference and diverse, loving families come to life and amplified to young children will encourage acceptance around the world. We're proud to partner with Hopster on these shorts, and we support their continued work in safeguarding young children's viewing and supporting parents as they teach at home."
Miki Chojnacka, Chief Creative and Content Officer at Hopster "Rainbow Stories focusses on love, family, acceptance, friendship and trust. Finding real life stories and translating them into animated short films for preschoolers has been a hugely powerful experience. The LGBT+ community is underrepresented in preschool content and we are so proud to formed this partnership with Diversity Role Models and make the much needed change."
In early 2019, Diversity Role Models reached its 100,000th pupil and has run workshops in almost 400 schools across the UK, encouraging pupils to be inclusive and end homophobic, biphobic and transphobic bullying in their classrooms.

After our workshops, which are delivered to primary schools and above, 89% of pupils said they would support a friend who comes out as LGBT+.
In addition to Rainbow Stories, Hopster created the Love is Love - LGBT+ Pride song for kids that is now live on YouTube.

About Hopster – www.hopster.tv
Hopster is a beautifully designed app for the under-sixes, aiming to strike the perfect balance between learning and fun. For one low monthly subscription with no tie-ins, Hopster subscribers get access to a large selection of kid's TV shows, stimulating learning games, nursery rhymes and music.
Hopster is trusted by millions of parents worldwide to keep their kids amazed with fun educational content in a safe and ad-free environment. It has topped the App Store charts in over 36 countries, was named Best Streaming Video Platform for preschoolers by Kidscreen as has received a channel nomination at the Children's BAFTA in 2018.
Hopster can be downloaded free from the App Store and Google Play and can be found on selected smart TVs such as Amazon Fire TV, EE TV and Roku in the UK, Roku Channels, Comcast Xfinity, DISH and Sling TV in the US and on many other platforms around the world.